When starting to build an alumni network, questions that are seldom asked are, "how do I create an alumni database", "how to connect with alumni", "how do you grow an alumni association", "how to connect with alumni on LinkedIn", etc. And naturally, the starting point of building any strong alumni network is accumulating and organizing an alumni database with whatever information is available.
While it is fairly simple to build and manage your alumni database on excel sheets, there are some downsides of it which are:
Lack of automation: There is no automatic updation of alumni profiles
Disconnected workflows: Excel Sheets are not connected with social media platforms and email engines used for alumni connect.
Small Alumni Offices find it challenging to build a large alumni database, wonder what tools to use and how to network with alumni. They are often caught in the alumni database vicious cycle explained in the below picture: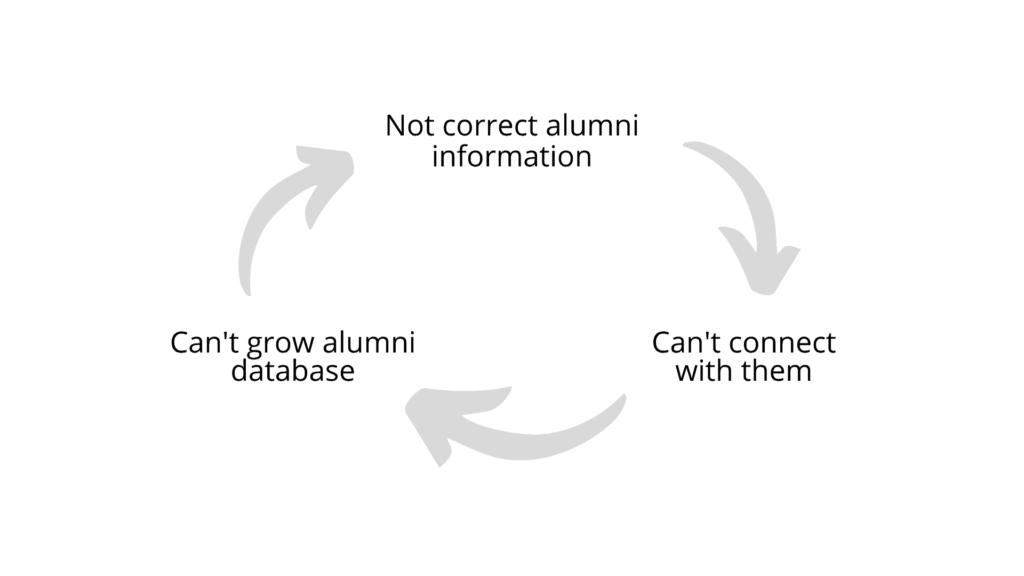 With these few hacks, you can now not only build and grow your alumni database but also manage it efficiently across platforms.

Peer-to-Peer Invite: One of the simple ways and yet the strongest, connecting with your alumni through peer-to-peer invite has been very effective. Imagine you have an alumni database of 100 alumni. You encourage these 100 alumni to tell about your alumni network to their batchmates, their batchmates will in turn tell their other fellow friends and so on. With this powerful technique, you're sure to gather a huge alumni database within a short period of time. Plan campaigns to motivate the alumni you're already connected with to bring their friends to join the network.
Harness Social Media Channels: Who is not present on social media platforms these days! Alumni Connect has become fairly easy with platforms like Facebook and LinkedIn. One challenge faced on social media platforms is that you might not be aware of the full name of alumni to add them in your network. But, let the alumni in your network help you in adding new members to the Facebook/ LinkedIn group. Social Media allows you to plan interesting campaigns for the alumni to attract them in joining the group.
Showcase the benefits: Alumni would be willing to join your alumni network when they see the underlying benefits. Run multiple campaigns on every channel to highlight alumni benefits after joining the network. Populate your social media pages, send emails, run newsletters, etc. to invite alumni to join your network and in turn build a strong alumni database with alumni loyalists.
The best hack to build a huge alumni database is by leveraging powerful Alumni Platforms!
An alumni platform is built specifically to build, grow and nurture your alumni network. With cutting-edge technology, it manages your entire alumni database without investing a lot of time and effort. That's Right. Rather than finding multiple tools to build your database, invest in a good alumni platform and get things going smoothly on the same.
The powerful mailing engine, social media integration and advanced automation on the AlmaShines Alumni Platform will grow your alumni database strategically and efficiently. With a single platform, you do not need to invest in multiple tools. It allows you to:
Automatically update alumni profiles (stop spending time on excel sheets)
Managing social media platforms and groups from a single point (stop juggling between various pages)
Strong and better alumni connect with a powerful mailing engine.
Read: How did Ahmedabad University grow its alumni database by 50% in 1.5 years?
You can take a free demonstration of AlmaShines Alumni Platform and see how your alumni database grows efficiently.  Request for a Free Demo Here.

Write to us on [email protected] for more queries and the next content you would like to read.