We all agree that Alumni Relations is one of the key pillars to institutional advancement besides the other three- Public Relations, Publications and Development. The mission and vision of advancement offices are being backed by and carried forward by the alumni relations team who dedicatedly work towards building lifelong connections with its alumni and advancement of students.
One interesting thing about alumni relations as a part of institutional advancement is that alumni have been closely associated with their alma mater for a long time and can be your biggest drivers of institutional advancement programs.
Reportedly, young alumni who have recently graduated are seen to support more than older alumni who lost contact with their alma mater long time back. Another interesting thing to note is that it is comparatively easy to convert your younger alumni into lifelong support than the older alumni.
Let's discuss the evolution of alumni to become your greatest supporters even after leaving the institution:

Don't Care: Alumni who has recently connected with their alma mater after losing contact do not resonate to the ideas, mission and vision of the institution. They are probably happy to get connected with the institute they were a part of and getting in touch with their fellow friends. However, they are least interested in the institutional advancement affairs as of now.
Value Seekers: After considerable efforts in connecting with them and exchanging regular communications, your alumni reach at a stage where they seek value out of the relationship re-established with the alma mater, called the 'Value Seekers'. The next direct stage after their 'don't care' is value seekers. It is fairly important to cater to their requirements to build a meaningful relationship and give them a sense of belonging. Planning of the right engagement campaigns for the right alumni at the right time Is fairly important that this step.
Recognition Seekers: With repeated and regular communication, interaction and other engagement activities, alumni start resonating with their alma mater and they feel connected. This is the stage where they want to boost their esteem. They want to be empowered just like they empower their institution. They want to be recognised for making their alma matter proud.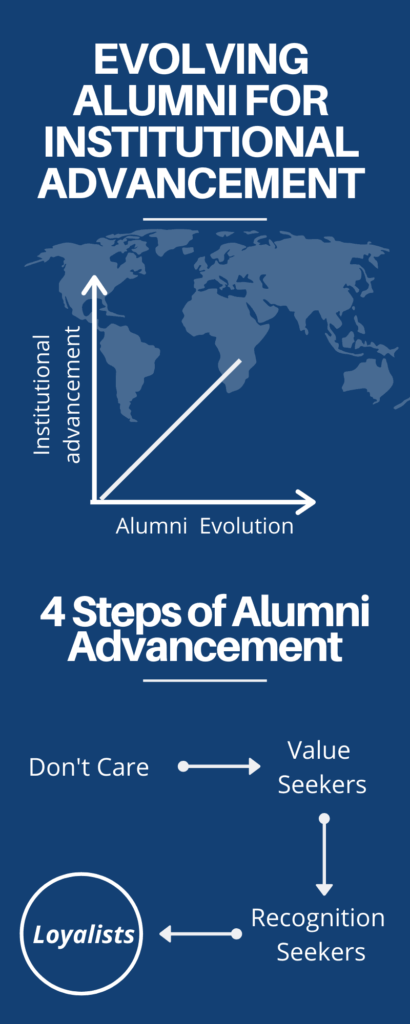 Loyalists: Finally, alumni evolve to the step where they are completely in support with the advancement of their alma mater and also want to be a part of its prosperity. Loyalists are the alumni who connected with the alma mater, got value out of the established relationship, have been recognized for their continued support and achievements.
Because young alumni have been recently graduated, they probably lie at stage 2&3, Value seekers and recognition seekers. With the evolving alumni at each stage, the institutional advancement graph also goes up and we can see a direct relationship between the both. Once built a lifelong relationship with the alumni, they continue to shower their support for the alma mater in terms of funds contributed to others.