Building a Strong Alumni Network is Simple, If We Understand What Lies Behind It!
All of us know what a strong alumni network can fetch to our institutions in terms of recognition, brand visibility, donations & gifts, in-house support, etc. Your alumni network is not something that is built magically over the time; it needs to be cultivated right when your alumni are students. A survey done in the past reveals that once your student graduates, it becomes challenging to get a hold and bring them back. And that is precisely why alumni associations sow the seeds during the student lifecycle.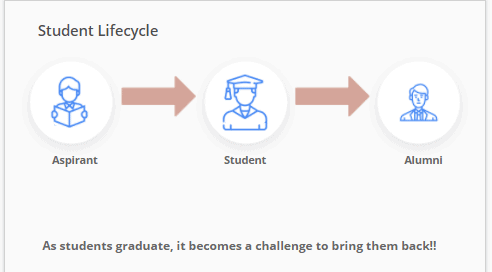 But Why Don't Alumni Come Back?
We did a study where we interacted with the bunch of alumni to understand their preferences and how useful do they find the interaction with their alma mater and this is what we found:
20% of alumni are happy to reconnect, support and contribute to their alma mater.
55% of alumni felt reconnecting with their alma mater meaningless. They didn't feel the direct need to get back to the institution, they couldn't feel why they should reconnect back when they are busy and happy in their lives.
14% of alumni expect recognition from their alma mater for their achievements in professional, personal and social lives and they feel that their alma mater is not recognizing their efforts and outstanding achievements.
11% of alumni were not at all interested in connecting back to the alma mater because they didn't resonate with it in the first place. (all the institutes have these bunch of nerds)
Given that, these are some of the challenges faced by all of us while building our strong alumni network:
Outdated Alumni Database with alumni information not updated since a long time.
Tedious Database Updation Drives.
Large Number of Non-Responsive Alumni.
Distributed Alumni groups across various platforms (Facebook, LinkedIn, Quora, etc.)
Limited Strategy and Man-Power for developing powerful alumni engagements and networks.
Less alumni participation in Initiatives.
No guidelines for building an alumni network.
Before diving into how to build an alumni network, let us understand how do alumni evolve over a period of time and how can we use this insight to build the best community. The Alumni Evolution is best described in the picture below: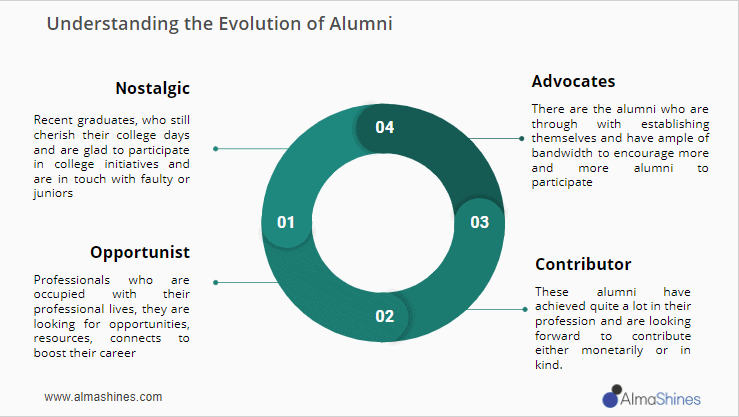 Building a Powerful Alumni Network in 100 Days!
With this understanding and insights, let us learn how the best alumni networks can be built in just 100 days. That's Right! To keep it simple, the entire process is devised keeping in center AlmaShines Alumni Platform and the stages required to create an alumni network.
STAGE 0- Preparatory
This is not the actual stage but more of a preparatory stage, getting all things done before building your strong alumni network.
Build Alumni database in Excel Sheet: The firstmost thing to start with is by getting and preparing an alumni database. Naturally, at this stage, you will not be equipped with all alumni information. But it is important to gather whatever data you have and compile it into an excel sheet.
Designate Personnel: The next step is to assign a responsible person/people who will handle all alumni network affairs and works as a coordinator and the person in-charge.
Set your Goal: Before anything else, it is important to know what you want of your alumni relations. Clearly listed goals for alumni engagement shall facilitate in your process.
Set up AlmaShines Alumni Platform: The final step at this stage is to set up your alumni platform where you can configure and upload all the existing information.
STAGE 1- Activation
This is your first stage in creating an alumni network which takes around 15 days.
Launch Campaigns to Introduce Alumni Platform: Once your platform is set up and you're absolutely ready to build your alumni relations, you will have to let your alumni know about the same. Launch various campaigns easily from AlmaShines Alumni Platform and set off alumni responses on the same.
Complete Alumni Profiles: Once your alumni know about the platform, trigger them to complete their alumni profiles with updated information. Plan various campaigns to nudge them to build their profiles. At this step, you will start building your updated alumni database automatically.
Identify Your Active Alumni: Not all alumni who updated their profiles on the platform will be active. Sure, you built your alumni database but how do you know if they are interested in your engagement efforts? That's when you identify your active alumni database. To do that, seek responses and participation from the alumni by planning various polls, Q&A, etc. This helps you in both- identifying active alumni and understanding their preferences to plan your engagement campaigns henceforth.
STAGE 2- Engagement
After identifying alumni who respond to your outreach, the next stage is to plant them into your engagement cycle (the goal of which is already determined in the preparatory stage). This stage takes an approximate of 25-30 days. The key to build a strong alumni engagement strategy here is to plan your campaigns keeping in mind the Alumni Evolution Stages (referred in the above diagram).
Encourage Alumni Stories & Experiences: Alumni are very excited to share what is going on in their lives, their encounter with an amazing experience, their achievements, etc. Through various campaigns, let those stories out. Encourage your alumni to share their story and be an inspiration to their fellow friends.
Peer-to-Peer Interaction: Give alumni a chance to interact with their friends and fellow alumni. This will help in identifying interest groups and bring out the real power of networking. Plan weekend getaways, homecoming, reunions, dinner, etc. at this stage and let alumni discover their peers and form a close-knit group within themselves. At this stage, your alumnus can influence his friends to join your alumni network, hence, a growing community.
Circulate Newsletters & Content: It is inevitable to keep your alumni network lively and interactive. Roll out important announcements, newsletters, online seminars, etc. across all channels to get the maximum alumni response. Harness all outreach channels and social media platforms integrated with AlmaShines Alumni Platform.
Learn How to Build an Alumni Engagement Strategy: Alumni-Stage Wise

STAGE 3- Resource Mobilization
An interactive alumni network is the most powerful in terms of building professional groups and mobilizing resources. Give it another 25-30 days and build a professional alumni network simultaneously with your alumni engagement efforts.
Launch Career Support Services: AlmaShines Alumni Platform is exhaustive and facilitates in overall development of your alumni network. At this stage, show your willingness to support and drive the career of the alumni by launching various initiatives that help them in seeking good placements and internships. Invite your alumni to post jobs and mobilize career opportunities.
Plan Knowledge Webinars: Conduct webinars that shape the future of your alumni and help them make informed decisions in their career path. Your senior alumni with professional expertise can become your guest and share his experiences and wisdom. Leverage your own network to build a highly professional alumni network.
Launch Mentorship Programs: One unique power to your alumni network is the close-knit relationship of the alumni with the current students. Students are more likely to interact with the alumni who undergo the same journey as them. This resonance helps them in developing strong relationships. Let your alumni become the mentors and your students, mentee.
STAGE 4- Alumni Giving Programs
After investing a lot of time and efforts into building an engaged alumni network, it's time to leverage the same to mobilize funds. At this stage, you would have built loyalists who resonate with their alma mater and are willing to support and contribute.
Cultivate Donors: Let your alumni become your biggest supporters. The entire process of recognizing them and seeking their support shouldn't look transactional. Give your 100% and a whole heart in recognizing the exceptional achievements of your alumni, put them on the Wall of Fame, honour their services, plan alumni awards, etc. Share your cause and expectations with them and give them a breathing period to come back to you.
Launch Giving Programs: Alumni Giving and Giving Day is one of the most important celebrated days. Infuse a cause, an impact which triggers alumni to join hands with you and support you every step of the way. Plan various fundraisers and launch these campaigns on AlmaShines Alumni Platform which allows to manage multiple campaigns from a single dashboard.
STAGE 5- Analyze
Your alumni network is without any roof if you don't analyze its performance. The success of the best alumni networks lies in setting the measurable goals. With AlmaShines Alumni Platform, you can keep a track of almost everything from the platform itself.
Measure Alumni Engagement: Alumni Engagement is not a one step process, rather it is evergoing. At every stage, it is important to measure the funnel of alumni engaged. This will give you a scenario of where are you losing your alumni in the engagement funnel and how can you plan the campaigns accordingly. With AlmaShines Alumni Platform, learn how many alumni were active in the last 30 days, how many new alumni profiles have been updated, etc.
Measure Successful Campaigns: Not all the campaigns planned by you will be equally effective. Few campaigns must have generated a magic number of alumni participation, some campaigns must have more alumni visibility but poor alumni response, etc. Identify those successful campaigns and try to replicate the same in your future campaigns. However, identifying some unsuccessful campaigns is a lesson learnt and can be avoided in the future.
Donor Analytics: At last, keep a track of the total funds mobilized and few fundraisers that were successful. With Donor Analytics of AlmaShines Alumni Platform, analyze which alumni from your vast alumni network contributed the most, how many fundraisers did they participate in, what was the mode of payment, which batch does they belong to, etc. This analysis is extremely useful in nudging them for future fundraisers. Oh, and never miss to appreciate and acknowledge their contributions and services.
These 5 stage classification of building a strong alumni network is one of the simplest ways to explain the huge magnitude and possibilities with an engaged alumni community. These steps are similar for every institute who is planning to build an alumni association and a strong alumni network, irrespective of the size of alumni, number of people in your alumni team, etc. One of the peculiar qualities of AlmaShines Alumni Platform is- it can be fully managed by one single person. You can see how the platform functions and its automation features by taking a Free Demonstration. Click Here to Claim your Free Demo.

For all those who are planning to build their alumni network, start today! In the next three months, you would have leveraged the best of your networks. For any further queries, feel free to drop us an email on [email protected].

Start building your strong alumni network today!