When we look back to when the concept of alumni relations was developed, the journey until today has been fascinating. Some noteworthy changes have taken place including the way alumni relations are managed today. From face to face alumni small group interactions to managing it with cutting edge technology, alumni relations are evolving day by day.
Does the current mode of managing alumni relations suffice?
Let's look at some of the challenges with the current means of alumni engagement:
Low reachability: One of the biggest pain points is regularly updating alumni information, without which, it is nearly impossible to connect and reach out to them. With the current mode of managing alumni relations, regularly updating excel sheets with correct alumni information is tedious and tiresome. It directly affects the out reach which in turn delivers low reachability to alumni.
Large response time for the communication: It takes an average of 14-24 hours to get a response to your email. This makes interactions slow and takes longer time for reactions.
Not able to comprehend busy lifestyles of alumni: Although websites are interactive, it takes a whole new effort to browse the website, log in with your credentials and check the latest updates. The flexibility of auto login is less likely in websites than in any mobile application.
Having said this, why should you consider having an alumni app for your alumni relations? There are several advantages of mobile applications than websites as stated by the users. We'll first some of these advantages and move to what are the different possibilities you can unlock in the future with the alumni apps.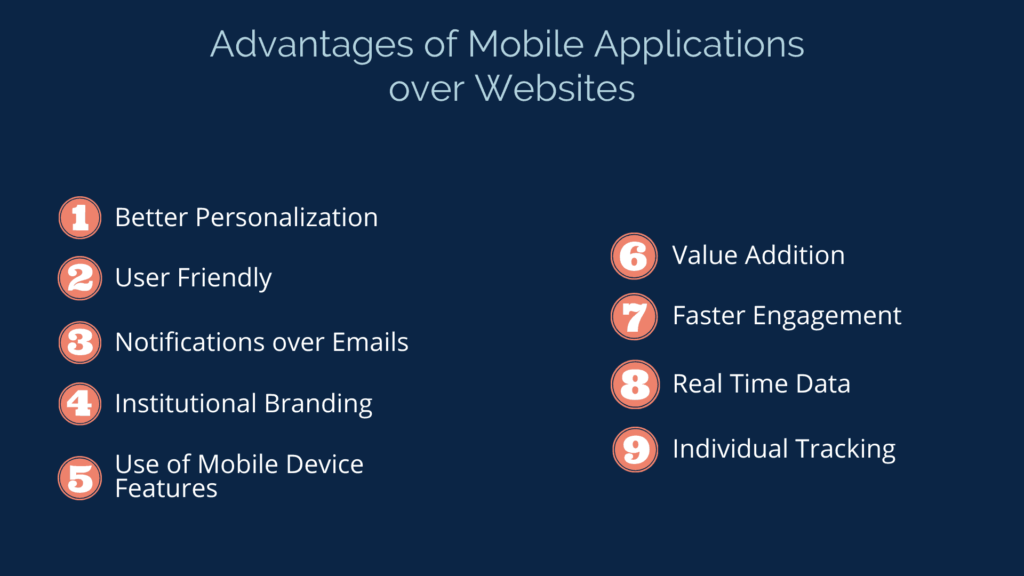 Hands down when we say that mobile apps are the most convenient and user-friendly mode of interactions and browsing. The UI, mobile responsiveness and accessibility is much more flexible than normal websites.
In our recent surveys, we found out that alumni prefer institutions to connect with them via applications. The screenshots below depict some of the polls and votes in favour of mobile applications.
Revolutionizing Alumni Relations with Alumni Apps
Now, let's talk about how mobile applications or alumni relations app can unfold some of the traditional challenges. Besides huge rise in alumni engagement, some of the possibilities with alumni apps that enhances your alumni relations are:
Geotagging: Imagine a scenario where you're curious to learn how many alumni were engaged and alumni from which locations are more active, etc. With geotagging, it is now possible to track the number of activities of your alumni with social media playing a huge role.
Seamless Giving Experience:
If you want to order from amazon, would you go to www.amazon.com or rather just open the app and buy? Always remember, your alumni are the same people who order from amazon app in a jiffy. Apps deliver such a seamless experience when it comes to making transactions because of smooth payment gateway integrations, secured card details saved in the apps, etc.
QR Code for secure participation:
Replace tickets with QR codes while inviting them for alumni events and homecoming for easy entry.
Global Participation with AR & VR Technology:
From traditional meets, institutions have explored and moved to virtual events and reunions. Now imagine virtual alumni events getting replaced by augmented reality and virtual reality! Expect huge alumni participation in such an interesting event and provide a homely experience to your alumni sitting far away.
With alumni apps, all the possibilities now seem real and exciting. I mean, who's not going to leverage it when it is clearly chosen by the alumni?