Digital Alumni Card is a small but a significant part of alumni relations management. The concept of digital i-card was meant to give online identity to alumni for easy verification but now is a key component to boost alumni engagement.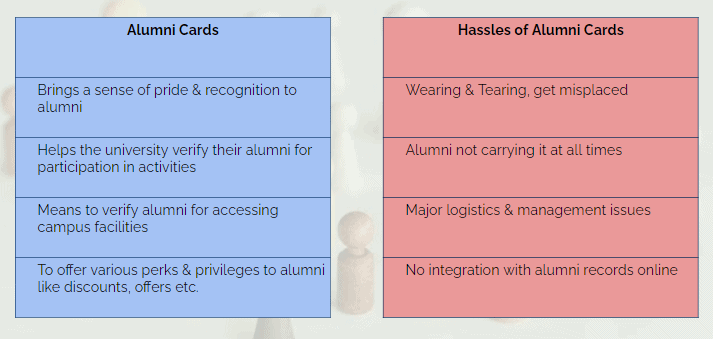 The picture above emphasizes why institutes are adapting digital alumni I-cards. Besides being cost-effective, digital alumni cards are easily accessible by alumni from across the globe, highly secure and allow flexibility of use.
Until now, the digital alumni card was a tool to verify and authenticate alumni of the institutes. But the functionalities and possibilities with alumni i-cards have increased beyond mere identification.
Digital Alumni I-Card for Database Building:
A digital alumni card helps you build your alumni database. How? Digital alumni i-cards are linked with the alumni profiles on the platform and are easily accessible by alumni across the globe in exchange of their information which means every time an alumnus gets a digital card, the information is updated in your database and so on. This allows alumni coordinators to keep their alumni information updated and build new connections, in turn grow alumni database.
Digital Alumni Card for Robust Alumni Engagement:
Digital alumni I cards bring O2O (Offline to Online) integration which brings a lot more power to alumni office. It allows you to analyze their engagement via a single database. For instance, an alumnus can use their digital card to attend in-person events and the same card can be used to participate in an online networking event.
Easy entry in alumni events: Without asking for a lot of information, a holder of digital alumni card can easily get entry in the events with a simple scan. To our surprise, alumni participate more if the experience delivered to them is smooth. In case of virtual events too, a simple QR scan will authenticate the alumni and can attend the event. Also, by using digital alumni ID cards, you can easily track the number of attendees in an event since the entry was allowed with the scan.
Secure entry in campus and availing online college facilities: No need to physically visit the college campus to get access to college materials and facilities, thanks to digital alumni card. This allows alumni to access college stuff from anywhere in the world increasing flexibility and engagement. Institutes can keep a track of alumni who regularly interact with the campus and avail exclusive facilities and use this information to boost alumni engagement.
Recognition: With customizable digital alumni card, institutes can include the pictures of brand ambassadors or noteworthy alumni in the I- card recognizing their contributions and achievements. The change of names and pictures is flexible in digital card as compared to physical card. This increases the recognition value of alumni, thereby engagement.
What is the Future of Digital ID Card for Alumni Relations?
When it comes to possibilities, imagination is the limit. Mentioned below are the few but not restrictive possibilities with digital alumni card:
Replacing Membership Cards: Institutes issue membership cards to alumni which they can use to avail exclusive member facilities, make payments, etc. What if all the functionalities of membership cards is available in the digital alumni card? It benefits both the institutes and the alumni. Institutes can avoid issuing two cards and alumni do not have to bother managing two different cards.
Raise Brand Sponsorship: This is another great application of digital alumni I-cards. Universities, colleges, alumni, and third-parties can sponsor the alumni cards by showcasing their brand logo with them. This creates additional revenue streams for the institution. With Co-branded cards, you can also offer exclusive discounts, early access and more to the card holders. The disadvantage with physical cards is that once the logo is printed, it cannot be replaced. You would have to reprint the ID cards every time a new sponsor comes in. Without question, this is expensive and labor-intensive. With digital alumni cards, however, logos can be easily replaced thereby facilitating brand sponsorship.
Save the Planet
In this decade, the sustainability of operations will set you apart from other universities, colleges, and educational institutes. You can channel your efforts towards saving the planet by reducing the carbon footprint and going green.
Unlike physical identification cards, digital alumni card gives you an environmentally friendly alternative.
Curious to know more? Check out the product page of Digital Alumni I-cards by AlmaShines and redefine your alumni experience in the digital age!