Whenever we talk about alumni relations, we focus on how senior alumni provides tremendous benefits to the institutions including career support and fund raising. We tend to overlook the power of young alumni who have been recently graduated or may be few years.
Have a look at the chart of comparision between the young alumni and the senior alumni.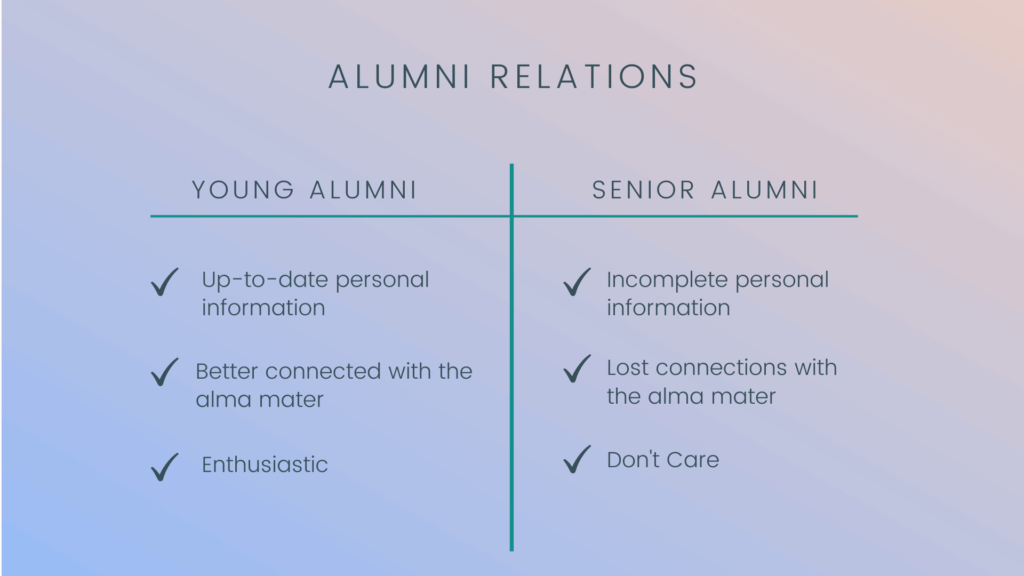 From the chart above, it is clear it is relatively easy to build relations with young alumni than senior alumni who has lost all contact with the institute and are living a busy life.
What are various factors that needs to be kept in mind while harnessing the potential of young alumni?
Regular Engagement: The fundamental mantra of alumni relations- Connect, Collaborate and Engage is quintessential to build smooth relations with the young alumni. Even after they have left the campus, inviting them for institute events, webinars, that help them in boosting their careers, etc. keep up their added interest and enthusiasm towards their alma mater. This in turn shall build up good rapport and a healthy relationship which can turn them into your biggest supporters.
Don't Take Them for Granted: Because of an increased focus on raising funds and career development which senior alumni provides, institutions often overlook or neglect the power their young alumni have (volunteering, supporting admissions, etc.) which draws young alumni apart and lose interest in the activities of the institute. Do not forget that young alumni are better resources at present than the senior alumni who may lack the desire of engagement and fall short of time.
Tap Them Young: This is probably the most important take away for institutions. Do not forget that building meaningful relationship with the young alumni forms the most solid base of getting their support in the future. Also, they have a great sense of 'giving back' to their alma mater as they clearly resonate with the vision of the institute.
Another important thing that you ought to remember is that these alumni are technology savvy. They are the ones who tend to respond to notifications over long emails/letters. Your messages can do wonders and can get huge response from these alumni with state-of-the-art technology.
Learn Why Young Institutions are Switching Over to Technology for Stronger Alumni Relations?
Join Alumni Champions Community where alumni professionals regularly exchange their best practices and noteworthy stories which provides tremendous insights for building a vibrant alumni ecosystem.