In our recent survey and the personal experience shared by Dr. Divya Bansal, Dean Alumni, Corporate & International Relations at Punjab Engineering College in one of the sessions of Alumni Champion Talks (watch the full session here), managing alumni database on excel sheets is clumsy.
Spreadsheets or excel sheets are the common tools for managing alumni database and have been in practice since a long period of time. If your alumni network is fairly small, using excel sheets would still make sense. But as your network starts growing, it becomes increasingly difficult to manage your alumni database on excel sheets for several reasons:
Lack of Auto-Updating Alumni Database: It's not simple and feasible to keep updating the correct alumni information every day. Imagine doing this for 10000 alumni all at once and every day! Ugh. It requires a huge team effort with proper team coordination, it is extremely time consuming and tedious, basically a nightmare. You would often wish for alumni information to get updated automatically.
Not connected with the Outreach Channels: Let's agree for the time being that you're excellent in managing your alumni database on excel sheets. Now what? How will you make sure that you're reaching out to the alumni with correct information on various outreach channels? The Excel Sheets or the Spreadsheets are separate from social networks and email platforms used for outreach and communication. You'd be inviting trouble if you've to update the information on excel sheet first and migrate every time you want to send out messages.
Not easy to Grow Alumni Database Using Excel Sheets: You're already consuming a lot of time and energy in updating the alumni database and synchronizing the same with the outreach channels. With non-updated alumni database, chances are huge that you're not reaching to your alumni which will not generate any response for you. Ultimately, it becomes a challenge to grow your alumni database and build a huge alumni community.
Lack of Alumni Authentication: Making sure that only the alumni become the part of your alumni network is not feasible on excel sheets. This means that for your single error of sending communications to the wrong address, you reach out to people who are not a part of your community. This highly affects the quality of alumni database and it becomes another task of filtering out the correct data from the wrong one.
Fear of loss of data: Managing alumni database on excel sheets requires a top-notch team coordination to not lose the database while transferring among the team members. Not having a centralized database leads to loss of data, with scattered excel sheets lying here and there with different team members. This eventually leads to loss of responsibly and accountability of managing the alumni database.
Given the constraints and the challenges, what is the shift or how are alumni offices transitioning from excel sheets for managing their alumni database?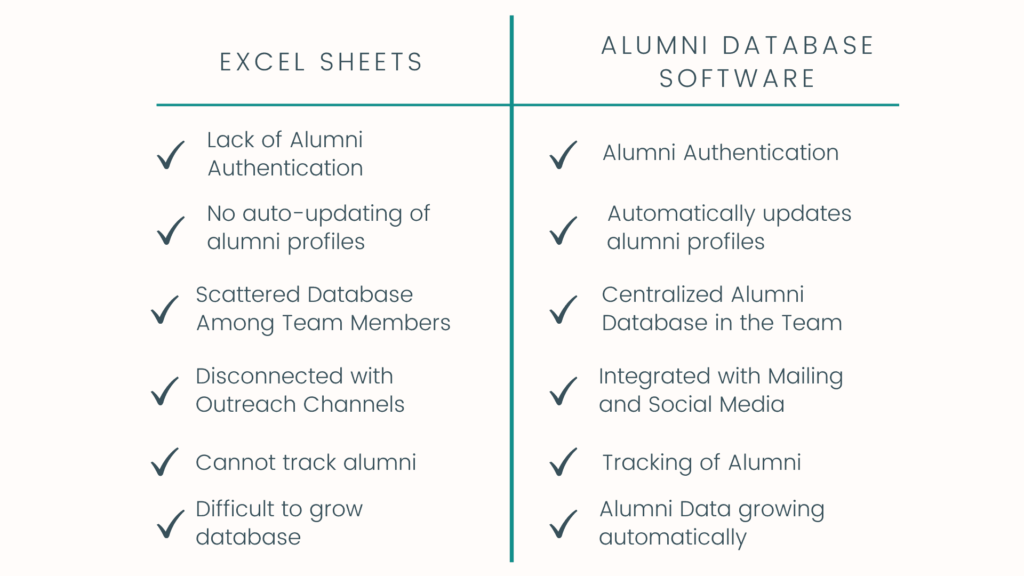 Alumni Offices have now shifted to managing their alumni database on alumni database software which overcomes all the limitations of spreadsheets or excel sheets. So how is managing alumni database on Alumni Database Software simplified?
Features/Functionalities of Alumni Database Software
Centralized Alumni Database which allows you to manage the alumni information and alumni communication from a single platform.
Auto Updating Alumni Database which is a relief because you don't have to manually update alumni information like on excel sheets.
Alumni Database Software Integrated with Mails & Social Media Channels which becomes easy for you to reach out to your alumni, send personalized messages and generate quick responses.
Data Authentication which allows only the alumni in your network to become part of your community. You can accept or reject their requests.
Track your alumni with which you can analyze new alumni connections and their interests through advanced algorithms.
Managing your alumni database on AlmaShines Alumni Platform will provide you with all the above-mentioned functionalities and more. Learn about the functionalities in detail here.
Request for a free demonstration of the AlmaDirectory, Alumni Database Software provided by AlmaShines. We're providing a free lifetime use of AlmaDirectory. Click Here to Claim.